Recordings of Lennox Berkeley's music

Recordings of Sonatina are found on the following CD albums: (clear search)
Displaying results 1-10 of 15
James Galway: the Man with the Golden Flute

Format:
CD
Label:
Sony Masterworks
Release date:
September 2014
James Galway is universally regarded as the supreme interpreter of classical flute repertoire, but his playing also crosses over into all musical genres. Now for the first time ever, in celebration of his 75 birthday, all of Sir James recordings for RCA Red Seal are being issued together in a single box set, The Complete RCA Album Collection. Born in Belfast, Galway studied in London and Paris and enjoyed a prestigious orchestral career in London before taking up the coveted position of principle flute with the Berlin Philharmonic under Herbert von Karajan. Galway left Berlin to pursue a solo career that has made him one of the iconic musical figures of modern times. His recordings have sold over 30 million copies and have won numerous awards.
In a career spanning four decades, this collection features every important concerto and solo music piece composed for the flute including all Lennox Berkeley's flute works, Pachelbel's Canon, Vivaldi's Four Seasons, Mozart's Eine kleine Nachtmusic, Clair de lune, Flight of the Bumblebee and much more. The box set also features traditional favorites from the Britain and America, including Danny Boy and Amazing Grace, great hits from Broadway and Hollywood, music by Andrew Lloyd Weber, Henry Mancini and Elton John, plus Christmas carols from all over the world. The beautifully designed box features a hardcover bound book and two performance DVDs including James Galway and the Chieftains in Ireland.
(Synopsis: Amazon)
Sonatina (op. 13)

Concerto for Flute (op. 36)
Sonata (op. 97)
Performed by the London Philharmonic Orchestra, Lennox Berkeley (conductor), James Galway (flute) & Phillip Moll (piano)
English Recorder Works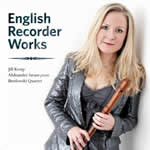 Format:
CD & Digital download
Label:
NMC Records
Release date:
April 2013
Catalogue no:
MMC103
Also includes Malcolm Arnold: Sonatina op. 41, Fantasy for Recorder and String Quartet & Solitaire; Gordon Jacob: Suite for Recorder and String Quartet; York Bowen: Sonata op. 121; Edmund Rubbra: Meditazioni sopra "Coeurs Désolés" op. 67.
Performed by Jill Kemp (recorder) & Aleksander Szram (piano)
Shine and Shade

Format:
CD
Label:
Red Priest Recordings
Release date:
October 2012
Catalogue no:
RPO10
Re-release of the 1999 Upbeat Classics disc of the same name. "An appealing disc full of vigorous character and ideas, not to say stunning virtuosity." - Classic FM Magazine (Recording of the Month, December 1999)
"Piers Adams demonstrates superbly just how varied composers' responses have been to the unusual combination and how often they have written beautiful movements that stand comparison with any modern wind and piano sonatas. Adams and Rhodes play with superb rapport and find all kinds of different expressive characters for the very different pieces. This CD is a delight." - Classic CD Magazine
Performed by Piers Adams (recorder) & Julian Rhodes (piano)
British Recorder Music

Format:
CD
Label:
Meridian Records
Release date:
November 2011
Catalogue no:
CDE84608
Ross Winters has been committed to the promotion of British recorder music ever since his first London performance at the age of ten. Five of the six works on this ground breaking CD have never been presented in this format before. Bush's 1975 Sonatina is a far more substantial work than its title suggests, and this world première recording will enable you to appreciate to the full its extraordinarily wide ranging expression. The second movement on the tenor recorder will repay several hearings.
Berkeley's Sonatina is now a well established classic of both recorder and flute repertoire. Its slow movement is exquisite and its finale always raises a smile. Establishing the recorder in its rightful position as a participant in modern chamber music alongside other established instruments was a major aim of this recording. The quartets by Berkeley and Cooke are fine examples of beautifully conceived chamber music. The Berkeley has been recorded using flute and piano but never before in its intended version with recorder and harpsichord which we present here. The slow movement of Cooke's quartet is serenely beautiful, and recorder players in particular will relate to the expressive range and vitality of his trio and variations and to the many virtuosic moments in all the pieces. (Synopsis by Meridian Records)
This recording is supported by a grant from the Lennox Berkeley Society.
Sonatina (op. 13)

Concertino (op. 49)
Performed by Ross Winters (recorder), Julian Jacobson (harpsichord), Yuka Matsumoto (violin) & Jessica Burroughs (cello)
Songs of Yesterday

Format:
CD
Label:
BIS
Release date:
October 2010
Catalogue no:
BIS-CD-1785
On 'Songs of Yesterday', Dan Laurin opens up an unfamiliar chapter in the history of recorder music: between 1939 and 1989 Carl Dolmetsch, the great pioneer in modern recorder playing, gave almost annual recitals at Wigmore Hall in London, for which he often commissioned works with piano or harpsichord accompaniment. This is described in the informative liner notes by Andrew Mayes, who has also published a book on the subject. In his own introduction to the disc, Laurin remarks upon 'Dolmetsch's ability to inspire composers to search for a contemporary idiom adequate for the instrument, resulting in an unparalleled number of top-quality works which unfortunately have been largely forgotten.' Among these, written by composers such as Edmund Rubbra and Lennox Berkeley, Laurin and his partner Anna Paradiso have selected seven pieces which, to quote Laurin once more, give his instrument a rare opportunity to 'sing like a French impressionist (Ravel, Debussy!) or a Russian modernist (Prokofiev!) - all of whom can be heard through the filter of this English, post-First World War melancholy longing.' (Synopsis by Bis Records)
Performed by Anna Paradiso (piano) & Dan Laurin (recorder)
Lennox Berkeley Chamber Music

Format:
CD & Digital download
Label:
Naxos
Release date:
April 2010
Catalogue no:
8.572288
Sonatina (op. 13)

Sonata in D minor (op. 22)
Trio (op. 44)
Quintet (op. 90)
Performed by Raphael Terroni (piano), Stephen Stirling (horn), Morgan Goff (viola), Susanne Stanzeleit (flute), Patrick Williams (flute), Melanie Ragg (oboe), Neyire Ashworth (clarinet) & Adam Mackenzie (bassoon)
Fruit of a Different Vine

Format:
CD & Digital download
Label:
Atma
Release date:
January 2004
Catalogue no:
ACD22206
Performed by Alayne Hall (piano) & Alison Melville (recorder)
Triple Treble

Format:
CD
Release date:
January 2003
On this CD, Marina Klunder (Treble recorder) and Gini Tamboer (Piano) have recorded Lennox Berkeley's Sonatina Op 13. Works by other 20th Century composers (Hans-George Burghardt and Herbert Baumann) are also included. The Berkeley Sonatina is more often played on the flute (notably by James Galway), but it was written for the recorder player Carl Dolmetsch in 1939. So this CD provides the opportunity to hear the work played as originally intended.
Performed by Marina Klunder (treble recorder) & Gini Tamboer (piano)
British Flute Music

Format:
CD & Digital download
Label:
Avie Records
Release date:
October 2002
Catalogue no:
AV0016
Performed by Jeffrey Khaner (flute) & Charles Abramovic (piano)
Sonatina - Gieseking, Berkeley et al

Format:
CD
Label:
Centaur Records
Release date:
March 2000
Catalogue no:
CRC2459
Performed by Katherine Kemler (flute) & Michael Gurt (piano)